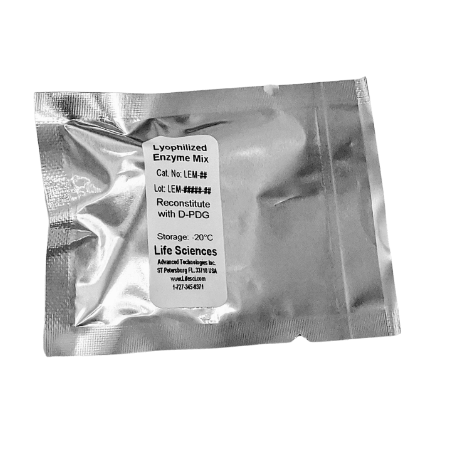 ADDITIONAL INFORMATION
Catalog Number:
LEM-5 (5 reactions), LEM-10 (10 reactions)
Category: NASBA Kits And Components
LEM is one of four components which make up our NASBA Lyophilized Kits.
CUSTOM ORDER

Lyophilized Enzymes Mix for RNA Amplification (NASBA)
This is a lyophilized enzyme mix containing a three-enzyme mixture used in isothermal RNA Amplification reactions.
In this reaction, the major product is an anti-sense, single-stranded RNA.
This three-enzyme mixture consists of Avian Myeloblastosis Virus Reverse Transcriptase, RNase H and T7 RNA Polymerase.
This is offered in 5 and 10 reaction sizes at 5 µL per reaction.